OVER 50X 5 STAR REVIEWS ON GOOGLE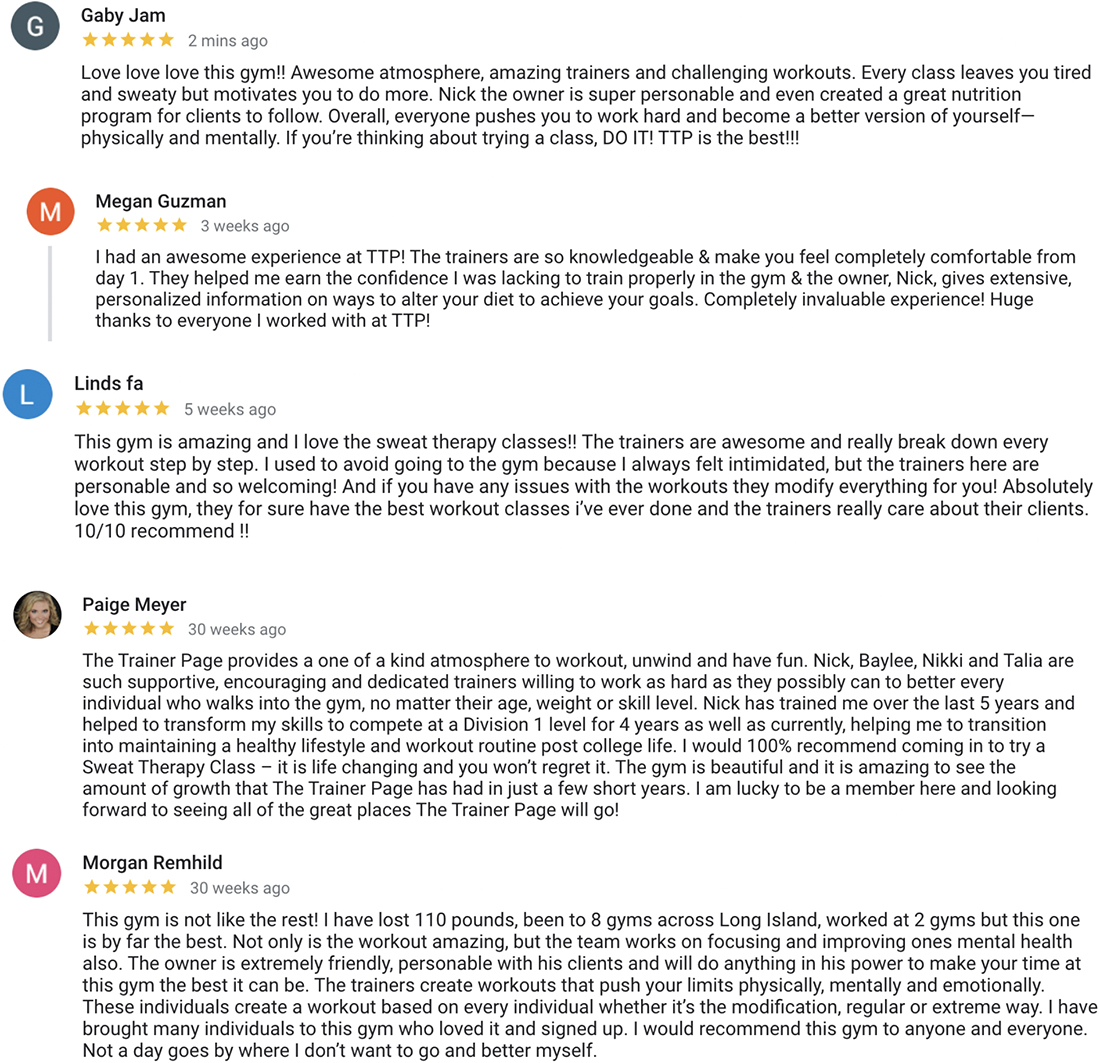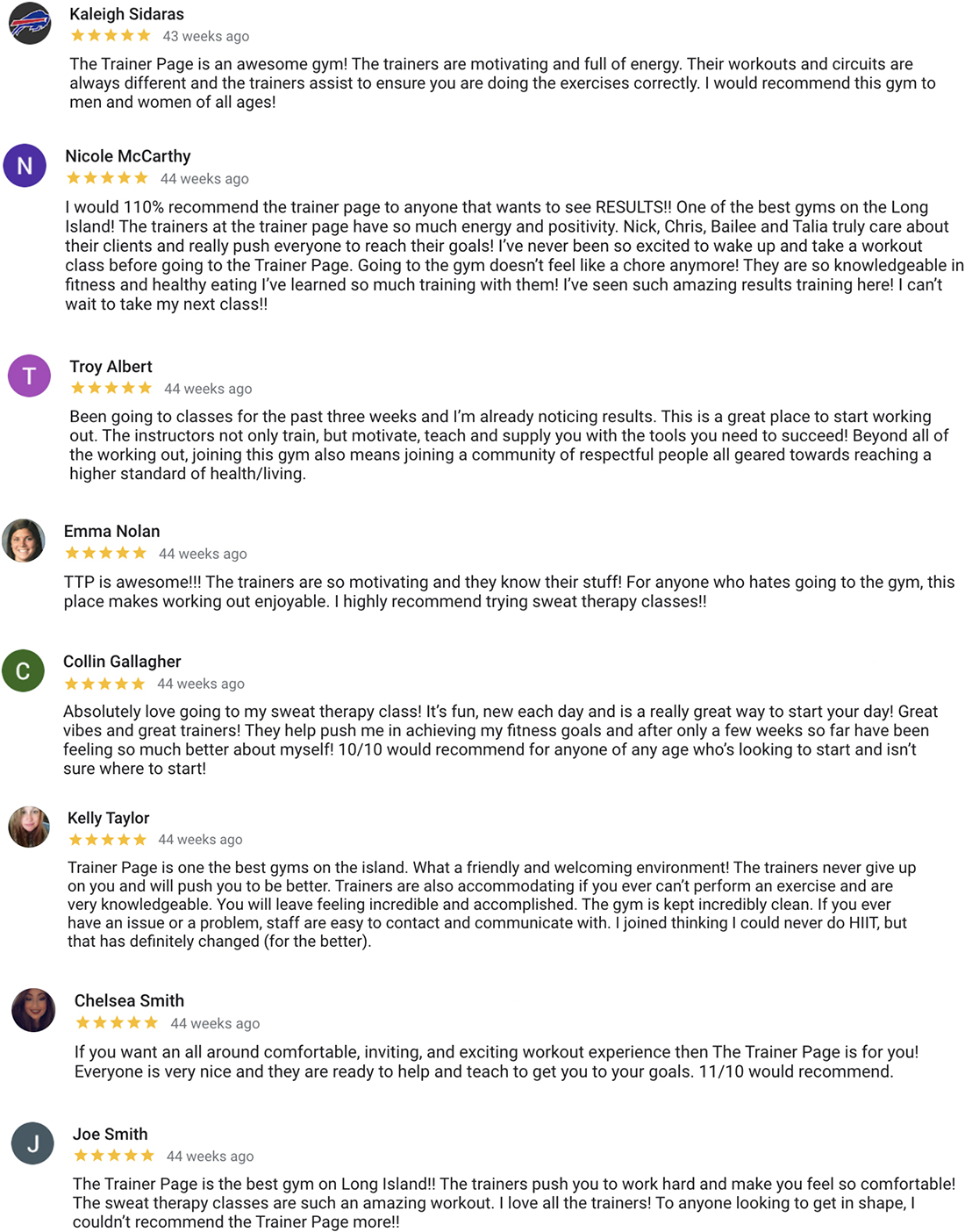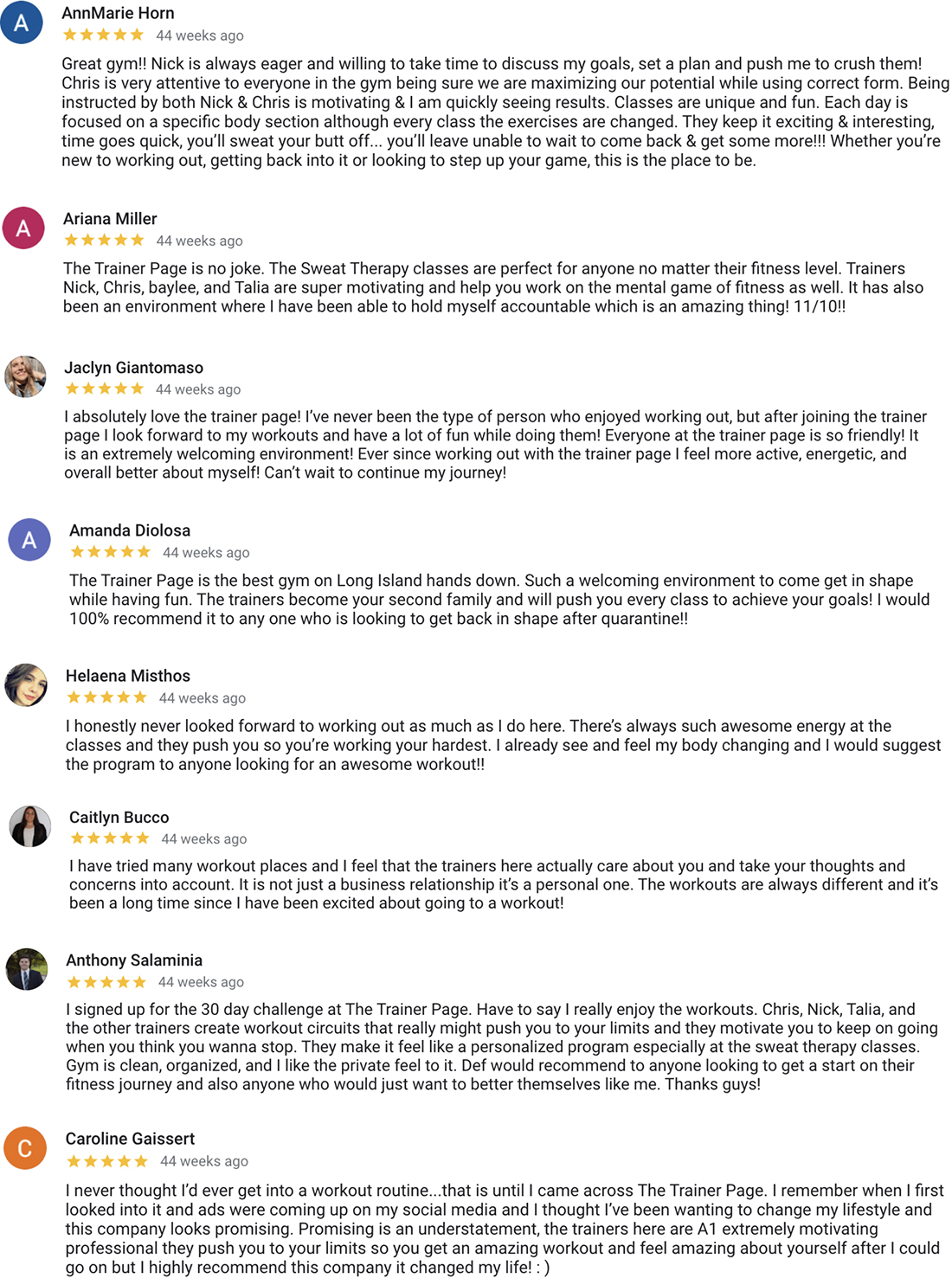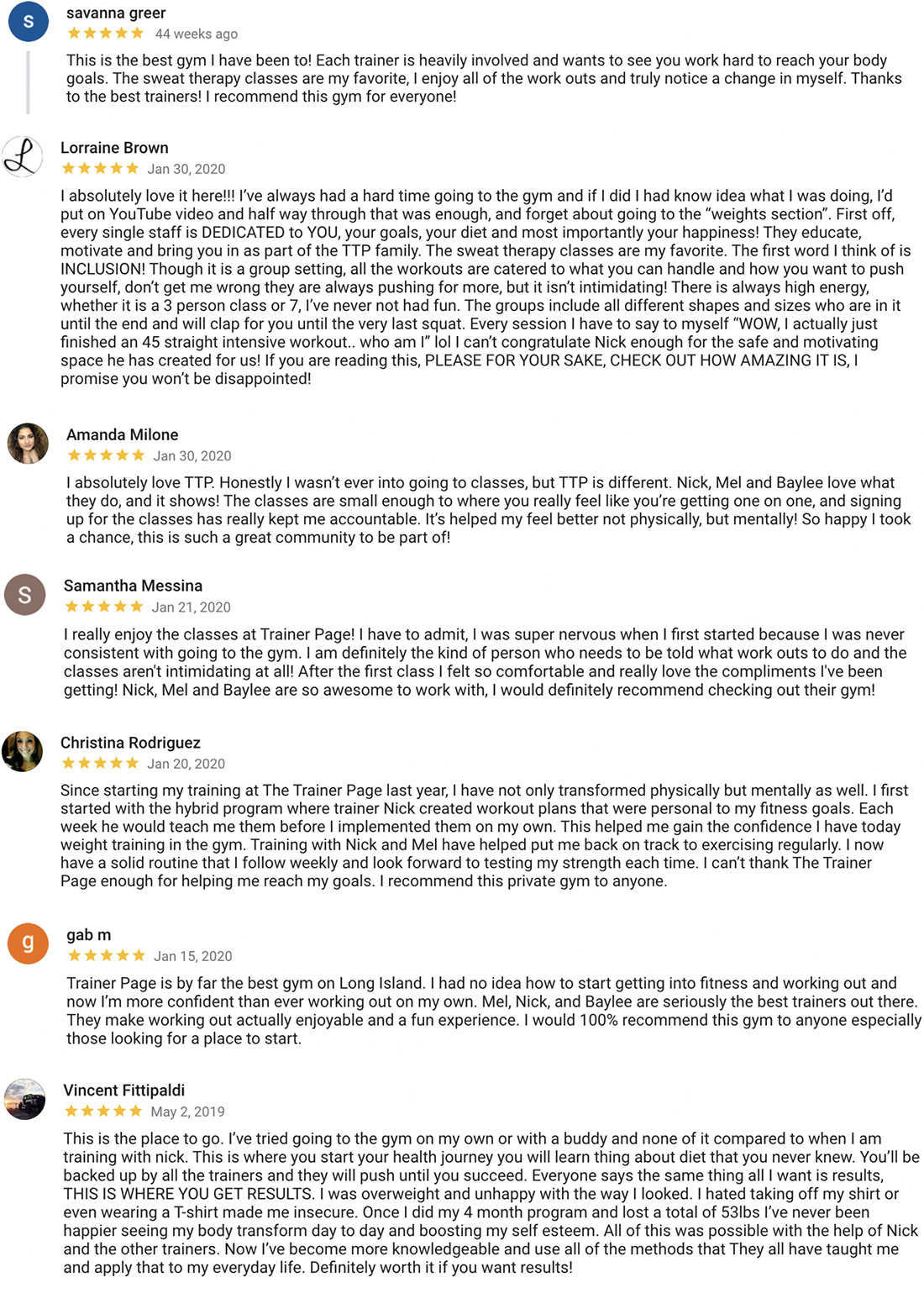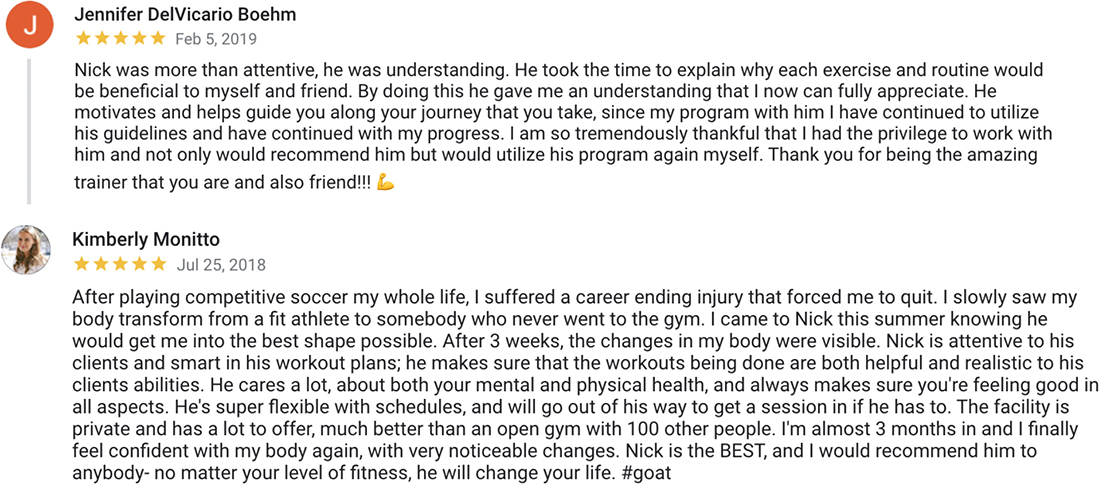 WHY YOU SHOULD TRAIN WITH US
TOP REVIEWS AND CLIENT SUCCESS STORIES
CONSISTENCY & DETERMINATION will get you results like Milena! 
Milena has been with us for 6 months and her hard work is paying off, she comes in every time ready to work and understand it doesn't just happen in a day or a week! If you stick to something overtime you will reach your goal!
Milena needed a new style of working out that would help her maximize her results and when she came in I knew we would be a perfect fit for her!
The best part is, we don't have a "style" we are going to do what is best for you in order to maximize your results. We make working out enjoyable again so you look forward to it! Milena is here 3-4 days a week, she always right on time and is always exciting for the new workout she's going to be put through that day!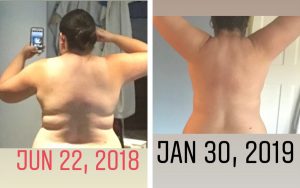 Congrats Milena let's keep grinding!
Check out Raya's 4 week transformation!
She only lost a little over 5lbs BUT, she clearly dropped in body fat and built some serious lean muscle so that's why going by the scale isn't always the best way to look at things!
This is a big issue a lot people deal with, who are addicted to the scale! When you build muscle and lose fat your weight fluctuates! That's why we are investing in a Styku 3D Body Scanner (we will be the only Private Gym on Long Island with one) because we want to show you another perspective of results!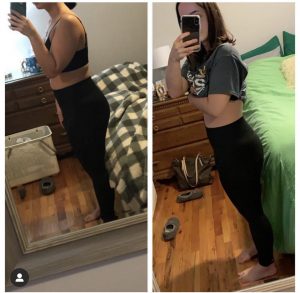 Great job Raya let's keep up the hard work!
Jill is so close to losing 50LBS!! 
Jill came to us with a lot of questions, she was unsure how to workout, diet and overall getting that initial START to her weight loss journey! This is a problem a lot of people have and we explained this to her that she is not alone and a lot of our clients were in the same position. After her free session we explained to her how we are going to show her the steps to losing weight and fixing her overall health!
The beginning of the program was a learning process on figuring out what diet works with her and her schedule as well as learning the new style of workouts! We had to ease her way into circuit training so she can burn the max amount of calories through HIIT and make sure she mastered the new exercises she was learning. She comes to us 3 days a week and is only 9 pounds away till losing 50lbs in 4 months! We are very proud of her and know we are going to crush that first goal within the next 4 weeks!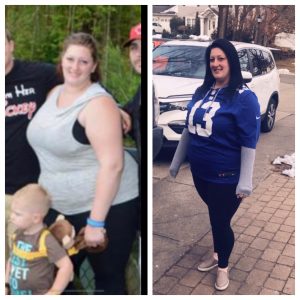 Keep grinding Jill you're a beast!
Victoria's Awesome Wedding Back Transformation!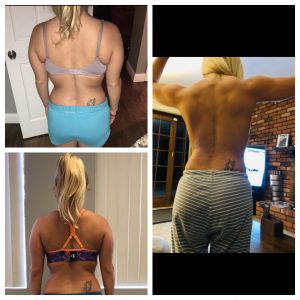 *the top left picture is from November of 2017
*bottom left is May of 2018 (when she first started)
*left picture is from March of 2019!
*last is her wedding pic in May 2019!
Victoria came to us looking for a new style of working out. She would go to the gym herself but never got the results she wanted. She then trained at Orange Theory Fitness for 6 months and was very unhappy with it because she wasn't seeing any results. She wanted to really drop body fat and shape up her back because her wedding dress style!
Victoria came in consistently and was one of our hardest working clients, from coming early morning at 6AM or coming right to us after working a 12 hour shift she never had any excuses and always put in the work and now it shows!
We taught her a whole variety of new exercises and diet and that she enjoys and can do on her own now at the gym!
One of the most important things everyone needs to know when it comes to working out, it takes TIME but it pays off in the end and it did for Victoria because this is a clear example!
Weight when I stopped gymnastics: 156 pounds
Current weight; 117 pounds
Baylee's passion for Gymnastics started when she was 3 years old and continued all the way to senior year of high school. As a gymnast, she was always the person in a cast or had an injury. Her last injury was a lot different from my others. She experienced her third concussion. This injury ended her career as a level 8 gymnast. Due to her concussion, Baylee started to suffer from Anxiety. For a long time, her anxiety took away from many events and experiences and had many long dark days sitting at home "resting". As a result of this long resting period for her concussion and stopping gymnastics, Baylee gained a massive amount of weight. Baylee was unhealthy and unhappy with herself, mentally and physically. While going through this dark period of time she was attending Eastern Suffolk Boces and graduated with her certification as a personal trainer and realized the gym was the light within her darkest days. Her gym became her getaway..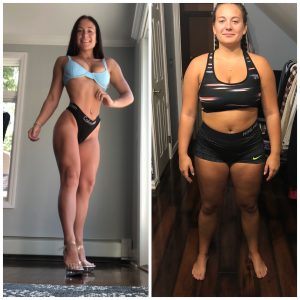 Today Baylee lost a total of 35 pounds and is learning how to cope with her anxiety. As she takes her fitness journey to another level, Baylee will be hitting the stage for the first time as a Bikini Competitor in a few months!
Vinny lost 45lbs in 12 weeks and so much more!
Vinny came to us feeling very insecure, embarrassed and uncomfortable in his own skin. He didn't have much experience in the gym besides his old high school football workouts so he wasn't sure how he could lose weight and build muscle.
He came 4 times a week and we put him on a very steady routine of Hypertrophy style lifting with Metabolic burn-outs towards the end. This allowed us to really get his form down so we can build muscle and strength while burning a lot of calories within the 60 minutes. After the 4th week he was down 15lbs and then decided to put him through a Metabolic Rest which really helped with his transformation. Within only 9 weeks he lost 37 pounds and was feeling amazing so we helped him ease his way back into a normal routine after the reset.
Vinny did not cut corners. In 12 weeks, he had only 2 cheat days which was because of a holiday and celebration but, other than that he did everything exactly how it was supposed to be done.
Vinny was 110% determined and ready to sacrifice his old ways in order to better himself and this is something everyone needs to do. If you do what we tell you, we promise you will 100% get results. We tell everyone how at the end of the day we only see them for 2, 3 or 4 hours out of the week to workout. Dieting is all on you so, if you are willing to make sacrifices, change bad habits & follow your diet then you will get amazing results like Vinny did in 12 weeks.
Shout out to Vinny for his hard work, it paid off and still is – he now learned a lot and is able to work out on his own at the gym feeling confident, strong and most importantly happy! Congrats Vinny you earned it!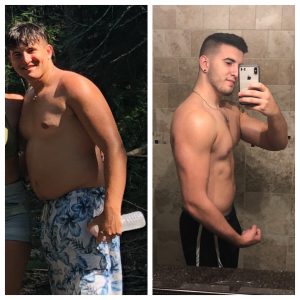 Click on images to view larger.
Throughout Marc's life, he was a successful athlete on the Men's Lacrosse Team at C.W. Post. He was always in shape and never had any health issues in his life, until things took a turn for the worst. Within a year, he tore everything in his ankle and needed reconstruction surgery. Soon after recovering from his ankle surgery, he then needed back surgery which required 6 months to recover. On only his 5th month of recovery, he needed emergency back surgery once again.
At the time of his injuries, Marc had a child who was only 3 months old. From being held back, Marc soon gained a total of 85 pounds within the year of recovery. Marc reached out to us and expressed he needed help, unsure of how to get the weight off, without risking the factor of him hurting his back again. So we took this challenge and within 6 months, an amazing transformation happended!
AFTER 6 MONTHS OF BEING WITH THE TRAINER PAGE, MARC LOST 70 POUNDS! HE'S NOW IN BETTER SHAPE THEN EVER!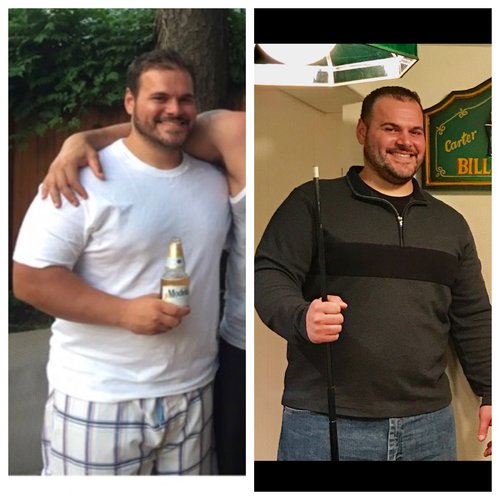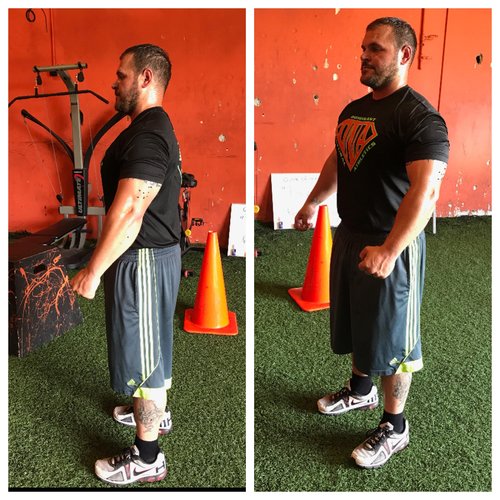 "I am so amazed by what The Trainer Page has done for me. They helped me through so much. They really turned my life around when I was at a low point." – Marc Andreassi
KIM LOST 50LBS & THAT'S NOT ALL ?
As awesome is that is, that is not what we am most happy about, you will see the picture (below) we received from Kim of her and her son on a fun roller coaster ride.
When she came to us 12 weeks ago she told us how she wasn't able to go on rides with her son and she wanted to lose enough weight so instead of watching the awesome moment of her son on the ride, she can actually BE in that moment. And WE DID IT! WE CRUSHED THAT GOAL! -?
Always remember on your weight loss or any fitness journey it's not just about the scale or inches, it's about how you feel mentally & FEELING COMFORTABLE in YOUR OWN SKIN! ?
Congrats Kim can't wait to lose the other ?!!!
"Don't Stop When You're Tired Stop When You're Done" – Unknown
She completed her 12 week sweat therapy program with her good friend Erika & the next day she went under for her 3rd and final surgery since her accident that occurred almost 3 years ago.
Jenn was truthfully one of the hardest clients we ever had to train, due to her accident she had bilateral broken legs which led to her having surgery back in August of 2015 she had a repair on her right femur & a left tib/fib compound fracture.
She had a speedy 6 week recovery after the surgery teaching herself how to walk again. Due to the surgery even 3 years later she lost a 1/3 inch height which caused her left leg to still to this day be broken.
(SHE TRAINED WITH A BROKEN LEG)
She is finally had the repair to correct the height difference and her broken leg (tib & fib) and all of this completely changed her aspect on life. In March this year she had gastric bypass and she has lost a total of 50 pounds when she started training with
(In 12 weeks)
Jenn always came in ready to go and never wanted to take rest in between sets. She always pushed herself and she goes to show that no matter what happens in life, you can do anything you put your mind too. We worked around her limitations and got the job done!
(50lbs down with a broken leg!!)